Dayus DARH-FG Return Air Filter Grilles - LOUVER STYLE

Dayus DARH-FG Return Air Filter Grilles - LOUVER STYLE
· Designed to fit most 1" filters (must be undersized 9 /32")
· Horizontal blades fixed on 30 deg deflection and 2/3" spacing
· Aluminum rollformed blades provide a stylish appearance
· Aluminum extruded frame with mechanically locked corners
· A or B type hinges are recommended on top
· Max blade length is 22". Mullions used for larger sizes
· Durable powdercoat painted finish (White, Silver or Mill)
Any available size in 3 days! Call us at 877-711-4822 if you do not see the size you need listed.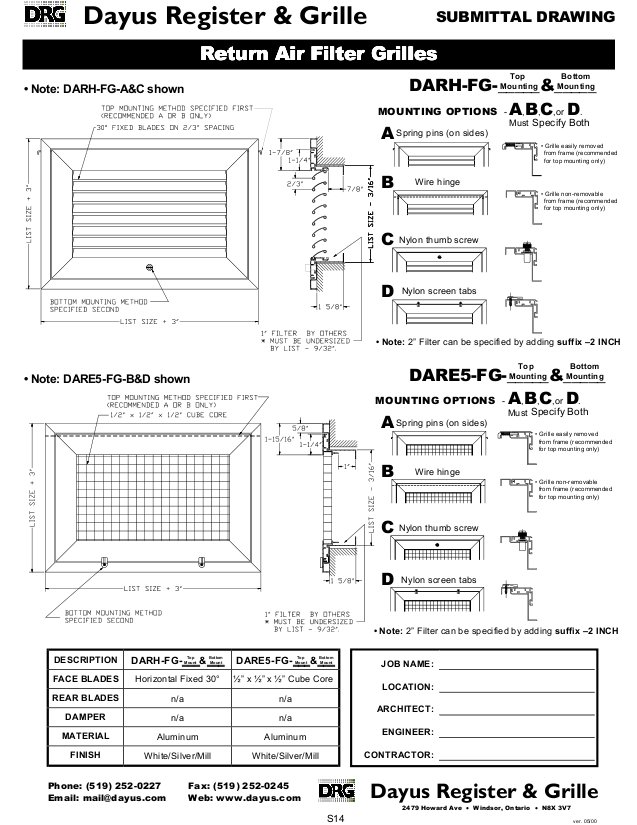 Click here to download the grille cut-sheet (info sheet).
Click here for additional grille pictures.
Click here to download the square to round transition cut-sheet (info sheet)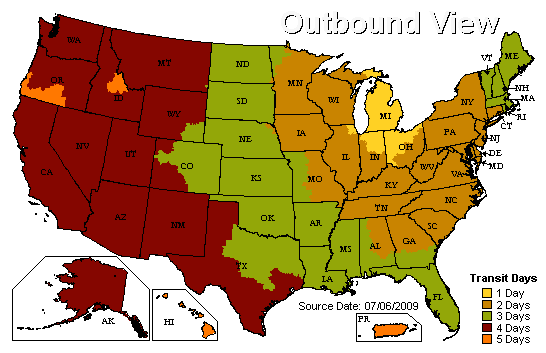 Do you have questions about the products on this page?

Click on the ? image on the left or this link to ask us your questions!
#1
Q: Can this be ordered with wire hinge on top and no mounting option on the bottom.
A: Yes, but not recommended. The grille might not sit closed properly. The least visible closure would be the side mounted spring pins.

Asked on 2019-09-16 by Marc
#2
Q: Does this have plastic holding tabs. Client looking for metal tabs or clips
A: The spring pins option is metal. The thumb screw and tabs options are nylon/plastic.

Asked on 2018-07-25 by josh
#3
Q: Can this grille be mounted to open at the top?
A: You do not want to rotate the grille since the louver orientation will not be correct. If you want it opening up at the top, select C or D mounting at the top and B (wire hinge) at the bottom. Call 877-711-4822 if you need help placing the order. Thanks.

Asked on 2017-04-27 by Naahville
#4
Q: Will these work for ceiling mounted applications?
A: Yes they will, the screws attach behind the filter door.

Asked on 2014-08-05 by Emily
#5
Q: Is there much difference in air flow between the Louver style and cube core style air filter grilles?
A: The cube core flows much better as it is almost fully open.

Asked on 2014-06-28 by Stuart-Cave Creek
Related Products
Dayus DARE5-FG return air grilles with filter holders. CUBE CORE STYLE. Grid of 1/2x1/2" cubes. MADE TO ORDER - Any size in 3 days!
Dayus DSSR square to round transitions for grilles. Galvanized metal. MADE TO ORDER - Any size in 3 days!

Multiple styles of return/supply air grilles and registers. All aluminum construction. Rectangular. MADE TO ORDER - Any size in 3 days!

MADE TO ORDER Dayus DABL and DABLD stylish bar linear grilles and registers. Extruded aluminum construction. Full depth and options. Some sizes suitable for floor use. Any size in 3 days!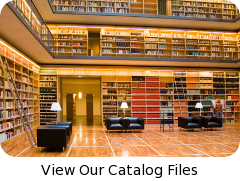 why buy from us?
We're engineers passionate about home ventilation and serious about customer service – so you can count on us for carefully-selected equipment and expert advice to ensure your project is a success from specification to installation.
Your call is answered by qualified people who will gladly discuss your project in detail, advise you professionally and never sell you inappropriate products.