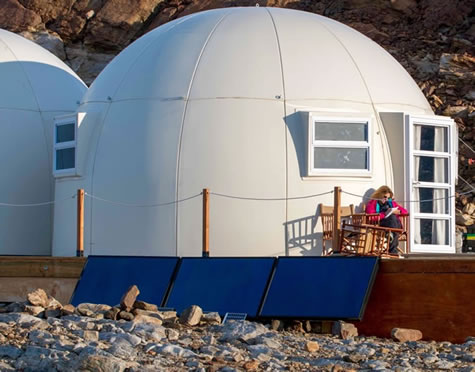 Sunny outside and cold inside? Lets use the sun to get warm!
Solar air heating is a solar thermal technology in which the energy from the sun's rays is captured by an absorbing panel and used to heat air. The warm air is circulated into the house for heating purposes. It cuts down on your heating costs and as a bonus its a renewable energy technology!
Where are they installed?
Solar air heaters are typically installed on a south facing wall (recommended) or on a sloped roof. The choosen location must get full sun exposure that isn't obstructed by trees, tall buildings or other types of shade. A wall installation is preferred since roof mounting presents sealing and other installation challenges.
Solar air heaters are intended to supplement an existing heating system, not replace it. The idea is to reduce the amount of heat your furnace has to produce to keep the house/space comfortable. And do it renewably.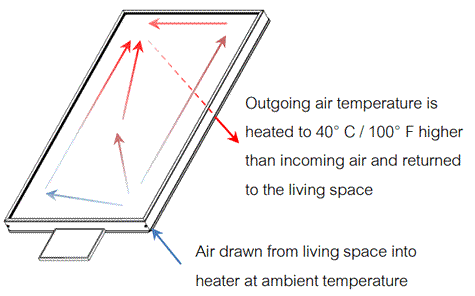 Why an Arctica Solar System?
The Arctica Solar 1500 Series heater is a very unique stand alone solar air heater. A PV panel powers the air circulation fan which is controlled by a simple thermostat in the conditioned space.
The system provides 1500 Watts equivalent heating capacity and since it comes ready to mount out of the box, its designed for the DIY installer.
Questions? Call 877-711-4822 or email us: sales@hvacquick.com
Solar Air Heating
Wall (recommended) and roof mounting applications. Ideal for sunny locations where the heater can supplement daytime heating or even act as primary heat in small space applications.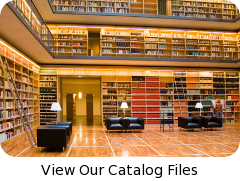 why buy from us?
We're engineers passionate about home ventilation and serious about customer service – so you can count on us for carefully-selected equipment and expert advice to ensure your project is a success from specification to installation.
Your call is answered by qualified people who will gladly discuss your project in detail, advise you professionally and never sell you inappropriate products.