Airtec Series MV Ceiling Diffusers and Grilles

Airtec Series MV Ceiling Diffusers and Grilles
A snap to install in any ceiling!
Quick tear off bands allow for easy size changes and swinging clips will fasten the assembly into the ceiling in seconds. Made from high impact polymers (plastic) and featuring a virtually airtight damper for winter shut off and/or volume control makes them a great fit in any application.
Four grille patterns allow optimum air flow direction for any room. Center handle turns easily for full range of air flow adjustment. Note the maximum ceiling thickness (drywall) is 1.25 inches.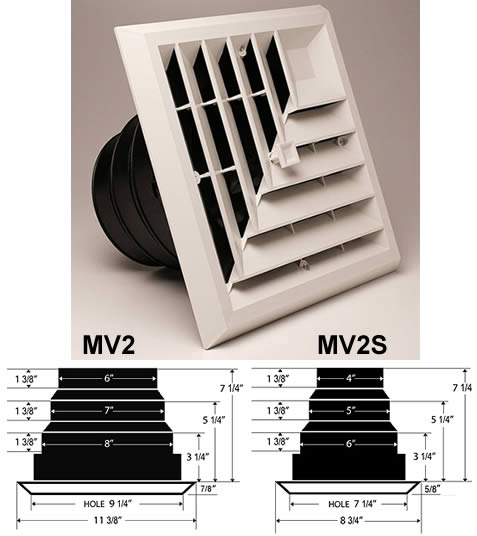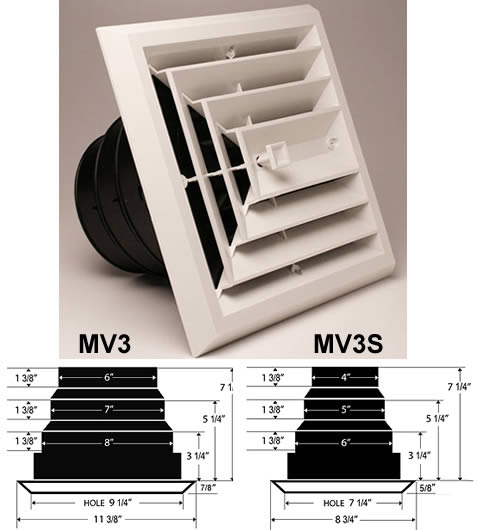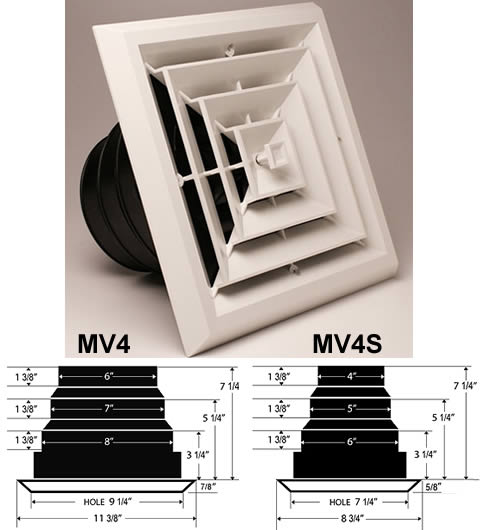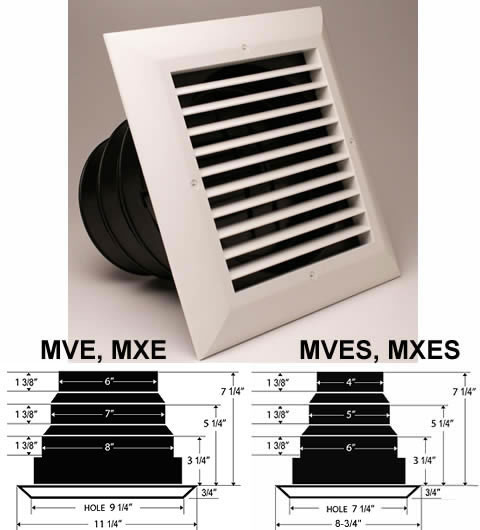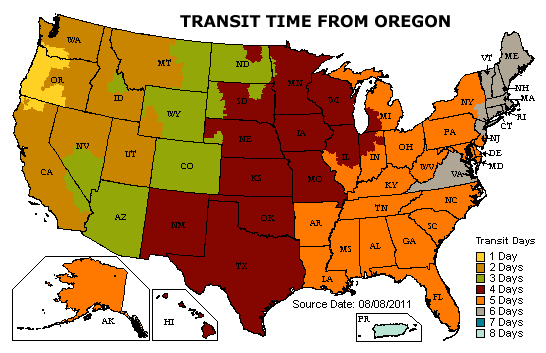 Do you have questions about the products on this page?

Click on the ? image on the left or this link to ask us your questions!
#1
Q: My vent ends in a square 8 by 8. Will these fit?
A: These are meant to connect to round duct. If you look at the Specs/Pics tab on the page there are dimensional profile diagrams that show the diameters of each duct connection section.

Asked on 2019-10-09 by Marco
#2
Q: Can these vents be used for a Suspended Ceiling with tiles?
A: Yes you can, you will use DCF or DCFS depending on which model you are using. These will be brackets that provide support for the grille against the rails as opposed to that tile itself.

Asked on 2018-10-27 by Dan
#3
Q: Does the one direction model have a damper? I do not see a knob, slider, or way to close a damper.
A: The model description with say WITH DAMPER if one is included. See slide 8 of the install manual for adjustment instructions: http://www.hvacquick.com/catalog_files/Airtec_MV_Instructions.pdf

Asked on 2017-08-19 by David
#4
Q: Im wondering if I can get them with a booster fan in them for better air flow?
A: There is no booster fan option on these.

Asked on 2014-09-14 by Dwayne
#5
Q: I am looking for an exhaust grill for the bathroom in my condo. The condos have a central roof mounted exhaust fan system that runs all the time. I want to be able to easily close off my individual unit when not needed on a daily basis. I installed a round 6 flexible aluminium tube and cut a hole in the drop sheetrock ceiling when we remodeled but my wife thinks we need something to finish off the project...go figure! Whats your suggestion? Thanks
A: The easiest to operate and the best looking would be the Seiho TT or JRC grilles. These Airtecs are adjustable but mostly for initial balancing of the system.

Asked on 2013-12-13 by Rick.....Kerrville Tx.
#6
Q: Im trying to replace a ceiling vent. The hole measures 15X15. Do you have anything that will fit that? What Im seeing on here looks smaller.
A: Take a look at the Dayus Grilles, we can make something custom in that size.

Asked on 2013-12-09 by Naomi
Related Products
Plastic ceiling diffusers with an integral ceiling box. Quick tear off bands for easy size changes. Simulated cast iron grille offers an upsale look for premium installations.

Rough-in polymer register/ grille box. Tuffbox is virtually air tight, delivering 100% of the air flowing through it. Use with any standard grille.

Exhaust grille only or grille with damper for limited clearance side or top entry applications. Plastic construction.

Grille only or grille with damper for limited clearance side or top entry applications. Plastic construction.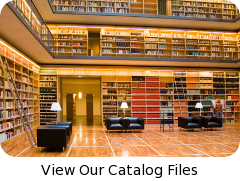 why buy from us?
We're engineers passionate about home ventilation and serious about customer service – so you can count on us for carefully-selected equipment and expert advice to ensure your project is a success from specification to installation.
Your call is answered by qualified people who will gladly discuss your project in detail, advise you professionally and never sell you inappropriate products.