Fantech DBF Series Dryer Booster Fans

Fantech DBF Series Dryer Booster Fans
Dryer boosting kits and lint traps. Typical residential dryers are rated at 160 cfm. However, boosting is generally needed in order to maintain a minimum airflow of 100cfm as duct length increases and bends are introduced in the duct line. Fantech models DBF 110, DBF 4XL, DBF 4XLT and DEDPV-705 are all suitable for most dryer boosting applications. Generally the models listed can be used for maximum duct length of 60 linear feet with a maximum of six elbows using four inch rigid duct.
The booster switch monitors dryer operation and will activate the fan when the dryer comes on. Preset to cycle in ten minute intervals the fan will stay on until the dryer stops.
The DEDPV-705 booster is safety certified by UL to the DEDPV supplement to UL705.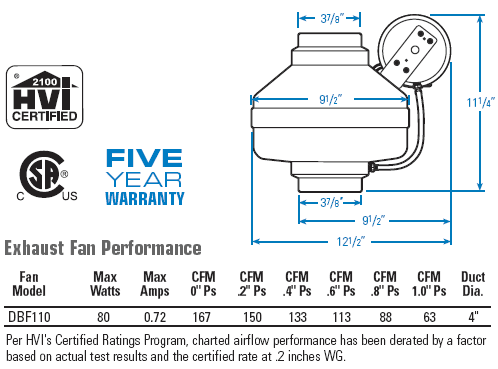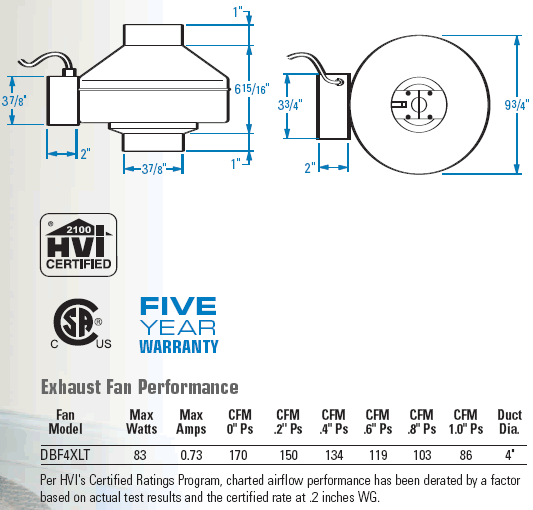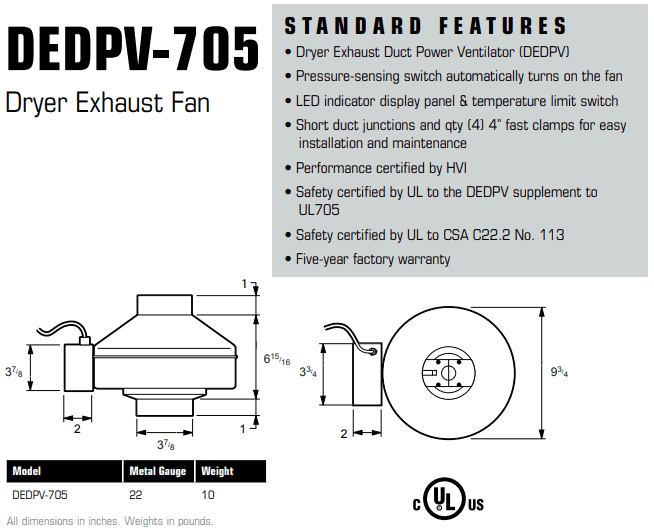 Stocked in both Oregon and New York state. See transit maps below.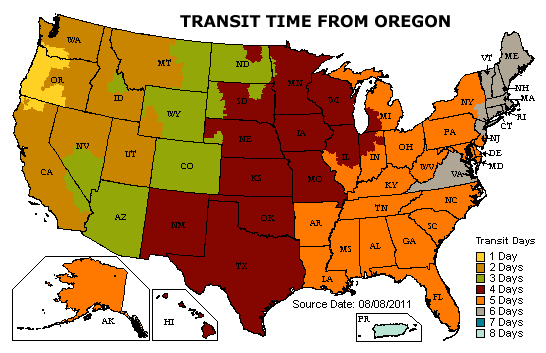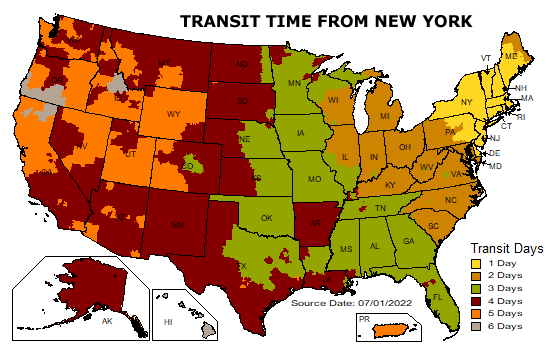 Some products might ship from multiple warehouses.
Do you have questions about the products on this page?

Click on the ? image on the left or this link to ask us your questions!
#1
Q: Does 90 degree turns matter when placing the fan unit 15 feet away from the dryer?
A: No. Fantech wants it 15 feet linear from the dryer so that lint has time to tumble and dry a bit.

Asked on 2023-03-26 by Colby
#2
Q: Im going to Install this booster fan to my dryer. Im going to dedicate a breaker only to this unit what size breaker should I use?
A: Fantech DBF fans typically draw less than 1 amp. A standard 15 or 20 amp circuit is way more than enough.

Asked on 2023-01-31 by Ron
#3
Q: Hi, Can the lint trap DBLT 4W be used with a gas dryer?
A: Yes. There are no restrictions on its use with gas or electric dryers.

Asked on 2021-07-16 by Valerie
#4
Q: Can this booster fan be used with flexible venting?
A: Yes it can. Flexible venting is discouraged for dryers due to the possibility of lint buildup.

Asked on 2021-01-06 by Tom
#5
Q: Can the DBF 4XL be used for a gas dryer?
A: Yes. The only restriction Fantech states is that the exhaust air temp from the dryer has to be less than 140 F which is normally the case.

Asked on 2019-11-29 by Poll
#6
Q: I have installed a Fantech DBF4XLT boosterfan in a 40 vent with 3x90 elbows rigid 4 vent pipe.I am changing from an electric dryer to a Samsung DV42H5200GP/A3 GAS dryer. Is it within code to have this Fan in the vent line.It is located in the last 15 feet of straight vent line, no more elbows.
A: The DBF4XL is suitable to overcome an equivalent duct length of 130 feet of 4 inch diameter galvanized steel duct.

Asked on 2019-09-02 by G
#7
Q: Our house has a long run for two bath exhausts. Can I use a in-line dryer booster fan with pressure switch to help exhaust those bathrooms?
A: We would not recommend it. The Fantech dryer booster pressure switches are calibrated for a single 4 inch duct with the typical dryer airflow. You might not get consistent activation with any other installation.

Asked on 2019-09-01 by D
#8
Q: I did not see the RVF4XL/DB10 on your list ... do you carry it?
A: We stopped putting it together as a kit. Fantech stopped as well. You can add the 2 items to your basket to get the same items. DB 10 switch kit on this page and the RVF 4XL fan here: https://www.hvacquick.com/products/residential/Bathroom-Ventilation/Remote-Fans-for-Bath/Fantech-RVF-fans

Asked on 2019-06-20 by Richard
#9
Q: Does the DBL4XL I just purchased come with the mounting bracket?
A: Indeed it does...

Asked on 2014-07-01 by Randy B
#10
Q: Do you carry a dryer exhaust fan for a outside wall mount?
A: Yes, the RVF4XL/DB10 combo works well in that instance.

Asked on 2014-06-07 by earl
#11
Q: How close can these be mounted to the dryer?
A: They need to be 15 feet away if you can, or as close as 5 feet with a lint trap installed.

Asked on 2014-05-12 by Rob
#12
Q: If you have to clean our the fan, do you have to remove the whole unit?
A: Yes, the fan must be removed to gain access to the interior of the unit.

Asked on 2013-04-04 by Rick
#13
Q: Can these be mounted on a vertical duct only?
A: They can be mounted in any position so long as the pressure switch is in the correct orientation. Check the manual for current recommendations.

Asked on 2013-04-04 by George
#14
Q: How do I know if I need the lint trap with the DBF110?
A: Fantech recommends the use of a lint trap if the fan will be closer than 15 feet from the dryer. At that point the lint should be dry enough to pass through the fan.

Asked on 2013-04-04 by JC
#15
Q: Whats better, the metal or plastic casing boosters?
A: The metal case has a better seal, but the integrated nature of the plastic one makes installation a snap. An argument could be made for either.

Asked on 2013-04-04 by Confused
Related Products
Plastic and metal Dryer Vent Boxes with snap on trim ring. Available in two sizes: 4" (for a 2x4 wall) or 6" (for a 2x6 wall) .

Made from polished stainless steel for durability. Designed for exterior applications in dryer, bathroom, or kitchen exhaust venting.

Vent caps suited to exhaust fan applications such as dryer, bathroom, or kitchen exhaust venting. Standard with flapper damper.

The SFZ and the SFZC dryer vents have large openings to reduce clogging. They are suited to exterior applications such as dryer, bathroom, or kitchen exhaust venting.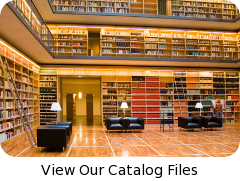 why buy from us?
We're engineers passionate about home ventilation and serious about customer service – so you can count on us for carefully-selected equipment and expert advice to ensure your project is a success from specification to installation.
Your call is answered by qualified people who will gladly discuss your project in detail, advise you professionally and never sell you inappropriate products.