HVACQuick CFB Series MERV-13 Inline Filter Boxes

HVACQuick CFB Series MERV-13 Inline Filter Boxes
A CFB filter box from HVACQuick is a high-performance solution for any application requiring in-line filtration. Constructed from 5052 H32 aluminum, the CFBs holds a standard 4" filter and are designed to fit either 6", 8", 10" or 12" diameter duct. The lid attaches securely with latches, and opens easily for quick filter replacements. A single MERV-13 filter cassette is included with every unit.
Does your application require higher arrestance or carbon filtration? MERV-15 (near HEPA filtration) and CARBON IMPREGNATED FILTERS are now available to replace the standard filters.
Large orders are welcome, and may benefit from additional quantity discounts. Call us for more information or for resale opportunities.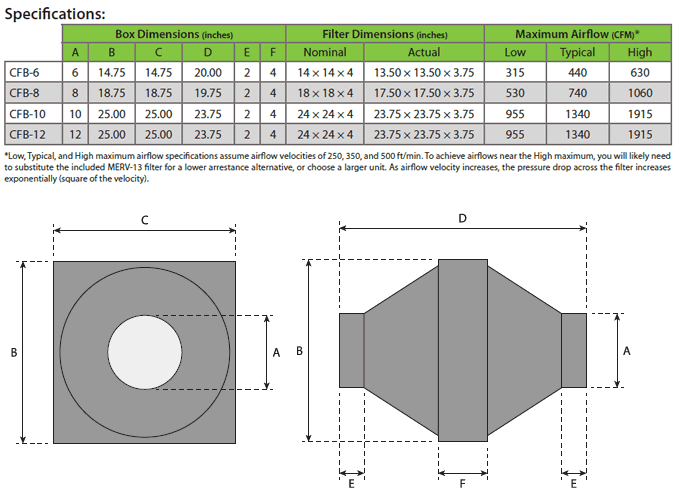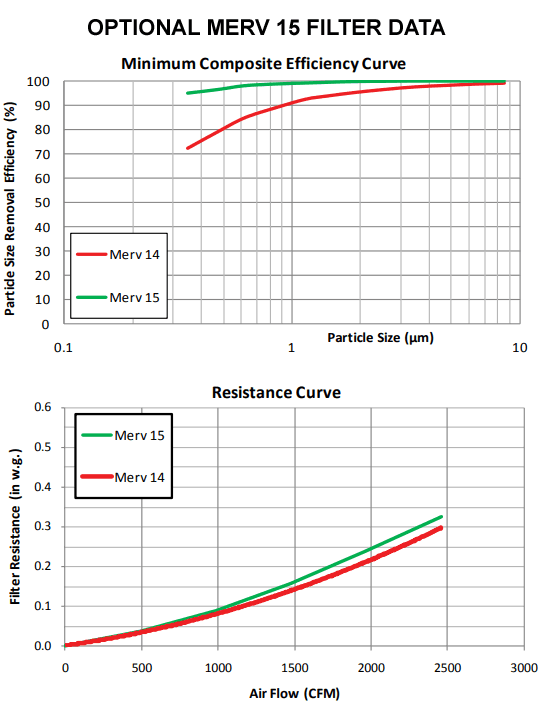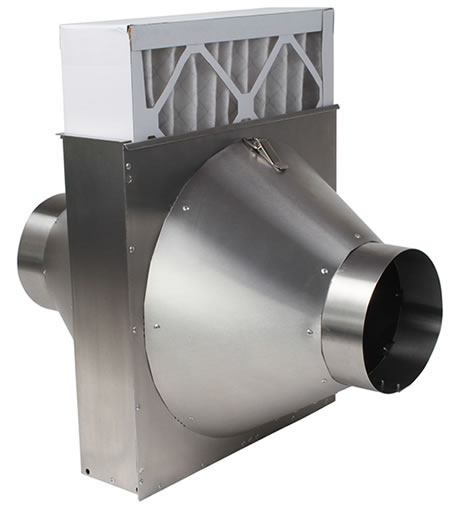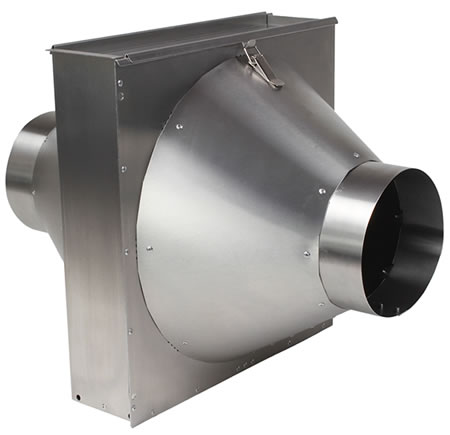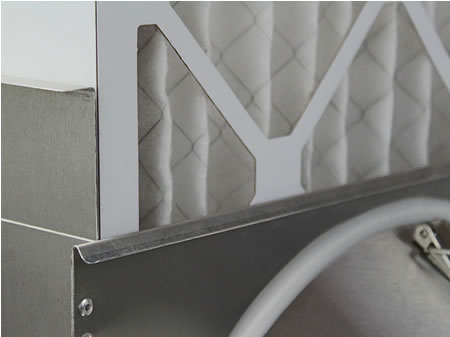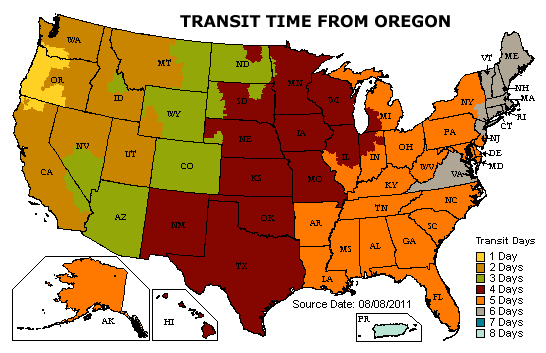 Do you have questions about the products on this page?

Click on the ? image on the left or this link to ask us your questions!
#1
Q: What would be a recommendable spacer inside this unit if i were to run two thinner filters (merv8/13), and would that affect performance?
A: We highly recommend sticking with 1 4 inch filter. They have much more surface area than thinner filters due to the deep pleating and a lower pressure drop.

Asked on 2020-07-25 by Matt
#2
Q: So if I want to install this product, do I need to replace my current fan motor (currently 1/3hp)? If so, how my HP do I need? or would it be easier/cheaper to also install an inline fan to help pull more air? Thank you for your time.
A: These are typically paired with an inline fan to pull the air through the filter. We list Typical/High/Low air flows for each box under the Specs tab so you can select a fan.

Asked on 2020-03-29 by Terry
#3
Q: Im looking for MERV 13 plus carbon filters to work with a heat recovery outside air unit. MERV 8 pre-filters are desired ahead of the MERV 13, to keep the MERV 13 from loading too quickly. Does this require a stack of the three different filters in line? Will the carbon filter act as a pre-filter in lieu of a separate MERV 8 filter? For an 1100 sf space, air flow is 500 to 600 cfm. What would be pressure drop for each 4 thick, in-line filter needed for this application?
A: You can substitute the 4 inch filter for 2 qty 2 inch filters as long as the overall thickness works (you might need to insert a wedge/spacer since you would have a double undercut on the thickness). Pressure drop will vary depending on the box/filter size. Here are the carbon impregnated filters that we sell: https://hvacquick.com/products/residential/Air-Filters/Carbon-Air-Filters/Accumulair-two-inch-CARBON-filters

Asked on 2019-05-23 by Kenneth
#4
Q: What is the temperature rating on unit and filter
A: No temperature rating specified. Standard HVAC system and air intake conditions. If you have specific requirements please give us a call at 877-711-4822 and we can have engineering take a look.

Asked on 2018-10-24 by Eli
#5
Q: What is the max CFM for this filter box ?
A: Depends on the size. You typically want to keep filters at 300 feet per minute or less, so for the 24x24 filter that corresponds to roughly 1200 cfm.

Asked on 2018-02-16 by Ron
Related Products
Filter boxes for inline filtration. Available in sizes to fit 4, 5, 6, 8, 10, 12 or 14-inch ducts. 22-gauge galvanized steel construction. MERV-6 polypropylene filter media.

Filter boxes for inline filtration. R4.3 insulated. Fits 8, 10, 12, 14, 16, 18 or 20-inch ducts. Aluminum box construction. MERV-13 2-inch filters included.

Fantech inline filter box with 6 inch duct connections. Commonly used with HRV/ERV units to filter incoming fresh air.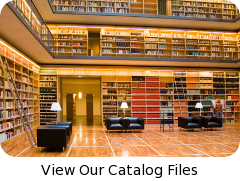 why buy from us?
We're engineers passionate about home ventilation and serious about customer service – so you can count on us for carefully-selected equipment and expert advice to ensure your project is a success from specification to installation.
Your call is answered by qualified people who will gladly discuss your project in detail, advise you professionally and never sell you inappropriate products.