Arctica Solar 1500 Series Solar Air Heater

Arctica Solar 1500 Series Solar Air Heater
The 1500 Series Gen 3 heater is a stand alone solar air heater. A PV panel powers the air circulation fan which is controlled by a simple commercial thermostat. The heaters typically mounts against a south facing wall or even a sloped roof using PV mounting rails or conventional mount brackets. 4" ducting is routed into the living space.
Features:
High performance absorber and circulation design
Includes thermostat and 12' wire
Includes 10 W PV panel to power air circulation
1,500 W / 5,000 BTU/hr max heating capacity
No assembly necessary, ready to mount out of the box
DIY or contractor install
Indoor grilles and duct not included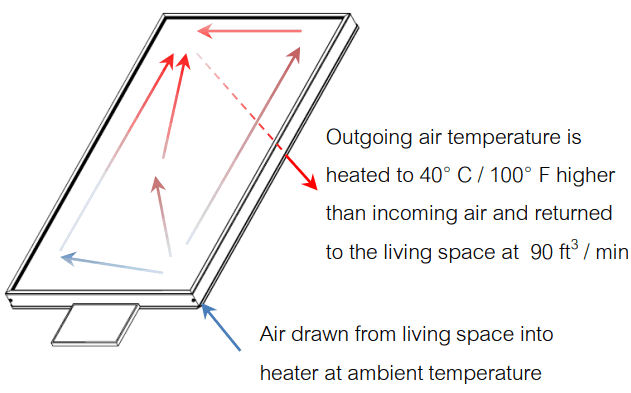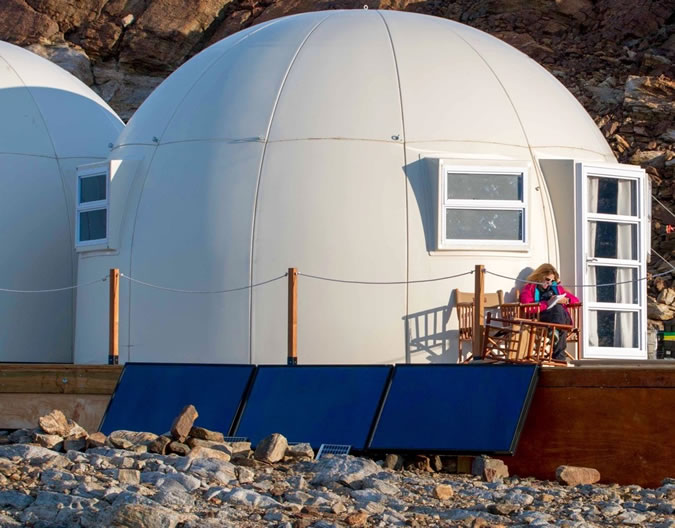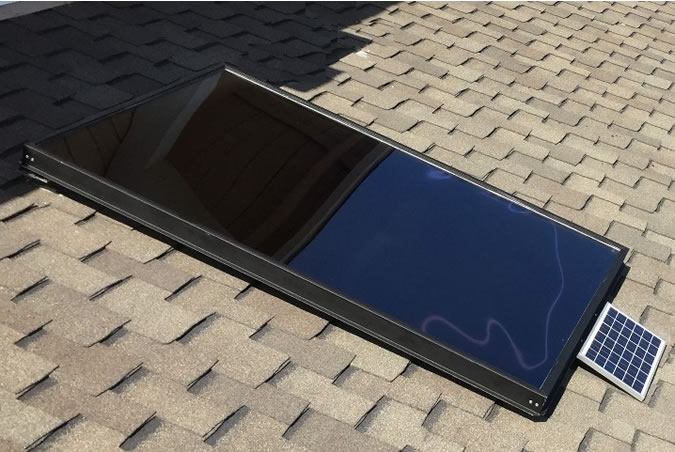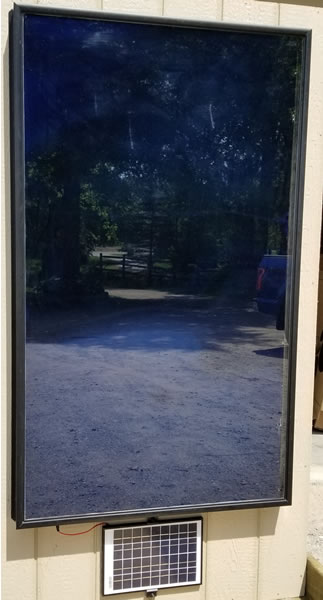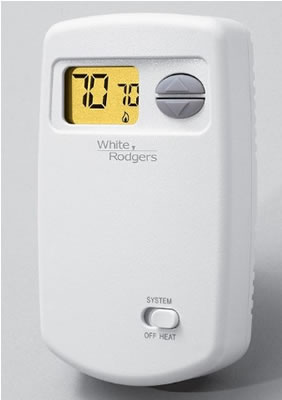 Links:
Installation Manual (PDF file)

Dimensions: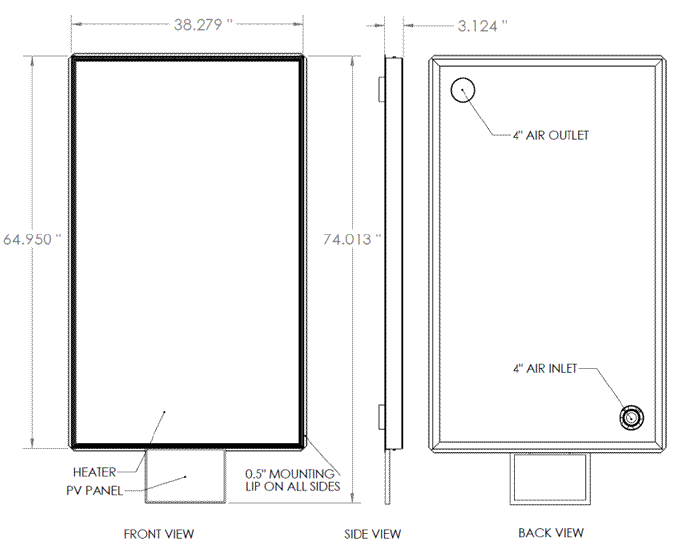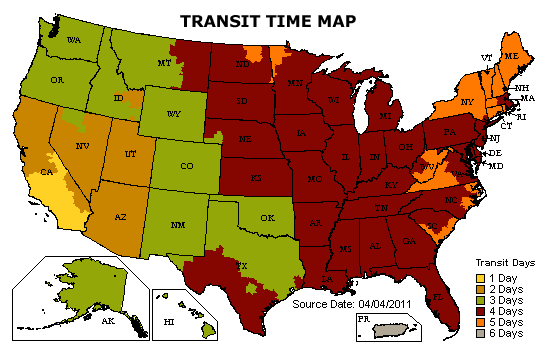 Do you have questions about the products on this page?

Click on the ? image on the left or this link to ask us your questions!
#1
Q: How does this product continue to heat overnight? I live in a 4 season climate and the winters are super cold. At the moment we heat our house with our wood burning stove, but are adding an addition that needs separate heating. Im just trying to wrap my brain around how it continues to heat overnight.Thanks!
A: It would not heat overnight. The heater only produces heat when you have sunlight shining at it. You can use auxiliary heat for periods of no sunlight such as your stove.

Asked on 2020-01-03 by Erin
#2
Q: Given a cabin of 800 sqft and a need for at least 5 Arctica Solar 1500 air heaters, do you install as individual units with room thermostats or together with a single controller?
A: Depends how the rooms are separated. It probably makes sense to have 3 or 4 units on one heating only thermostat and 1 or 2 units on a second thermostat. Or all units on 1 thermostat if that makes sense for the physical layout.

Asked on 2019-08-26 by Scott
#3
Q: How will it work in a snowy climate?
A: In a snowy climate you are best of mounting it in a vertical orientation, on a wall, so that snow does not cover the collector.

Asked on 2019-02-10 by Rob
#4
Q: I noticed in an image online that the panels were mounted with the long axis horizontal to the ground....is that a realistic option for mounting? Thank you!
A: Our recommended mounting is portrait because of the natural effect of hot air rising. However mounting landscape is not that detrimental to performance, and we can place the exhaust and intake collars accordingly (custom order).

Asked on 2018-11-25 by SJI
#5
Q: What is the downside of mounting on a roof? What product do you recommend for mounting on a roof....ie what do you use? if you mount on a roof, how far down a wall can the input and output duct be placed without compromising function?
A: If mounting on a roof and routing ducting through the roof, the installer will have to make sure to use the proper duct flashing to prevent water leakage. You can mount the 1500 solar air heater to the roof using commercially available solar PV racking or uni-strut from a local hardware store. The installation manual shows how to mount via PV racking. If you want to mount to a roof and then route ducting to a wall, I would suggest no more than 6 ft of ducting on exhaust or intake. Any more than that and you may have to wire in an inline blower to deal with the pressure drop of more ducting. Plus with more ducting comes more heat loss. It is always best to mount the heater as close to the point of use as possible.

Asked on 2018-11-25 by SJI
#6
Q: what is the absorber material and how does the air flow work?
A: The absorber is a metal substrate with a highly absorptive, low emissivity coating. Air is guided through in the intake at the bottom of the heater through engineered baffles and out of the exhaust port at the top of the heater. Power for the fan is provided by a small PV solar panels so there is no need to run electrical wiring to the product.

Asked on 2018-11-02 by tim
#7
Q: If i have this mounted on the roof what happens in the summer?
A: Its thermostat operated so if you have the thermostat set to off, the unit will not operate in the summer.

Asked on 2018-10-11 by orry
Related Products
Solar air heater. A PV panel powers the air circulation fan and the heaters mounts against a south facing wall or sloped roof. 750 W / 2,500 BTU/hr max heating capacity.

Lifebreath EasyAir fully adjustable ventilation grilles and matching mounting adapters. White plastic.

WG grilles are durable, adjustable air supply or exhaust vents. This ceiling or wall mountable grille provides whisper quiet airflow in an unobtrusive and aesthetically pleasing housing.

WGX grilles are highly-adjustable air supply or exhaust vents. The ceiling mountable grille provides whisper-quiet airflow in an unobtrusive and aesthetically pleasing housing.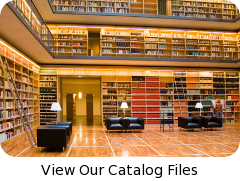 why buy from us?
We're engineers passionate about home ventilation and serious about customer service – so you can count on us for carefully-selected equipment and expert advice to ensure your project is a success from specification to installation.
Your call is answered by qualified people who will gladly discuss your project in detail, advise you professionally and never sell you inappropriate products.