RadonAway RP Radon Fans
All RadonAway fans are specifically designed for radon mitigation. RP Series Fans provide superb performance, run ultra-quiet and are attractive. They are ideal for most sub-slab radon mitigation systems.
Features:
• Energy efficient
• Ultra-quiet operation
• Meets all electrical code requirements
• Water-hardened motorized impeller
• Seams sealed to inhibit radon leakage
• ETL Listed - for indoor or outdoor use
• Thermally protected motor
• Rated for commercial and residential use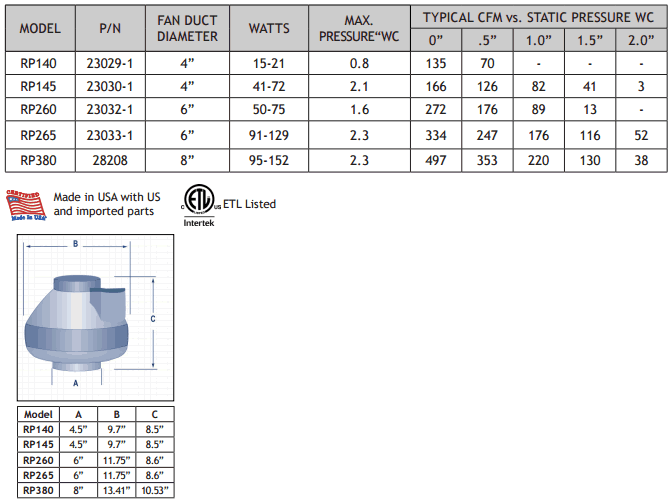 Stocked in both Oregon and New York state. See transit maps below.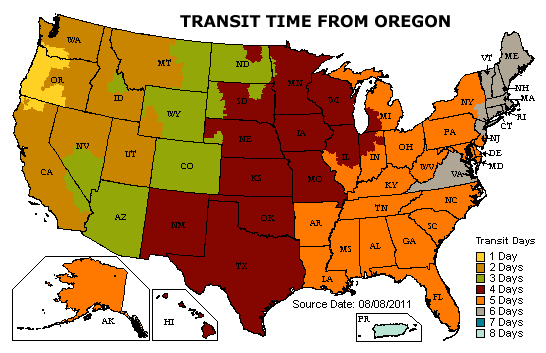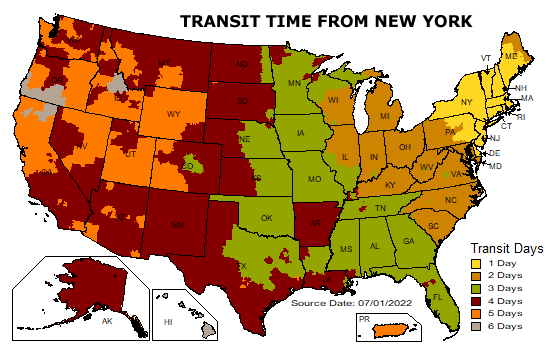 Some products might ship from multiple warehouses.
Do you have questions about the products on this page?

Click on the ? image on the left or this link to ask us your questions!
#1
Q: I have an rp140 installed, performs well at my home. But I am going to replace it soon as it is old and started to get noisy lately. Is it a good idea to replace that with rp145? Or should I stick to rp140 no matter what?
A: If the 140 performs well in your home then do not switch. The 145 uses twice as much power and should only be switched to if a radon test in the home indicates you need more airflow.

Asked on 2023-08-12 by Emmerich
#2
Q: I need a radon fan that will fit on top of 4 PVC pipe on a roof. Will this unit need to be supported other than the connection to the pipe? I am looking for 150 CFM at 2 water column. Please advise.
A: These are typically supported from both sides (top and bottom) using rubber couplers between the pipe and the fan. The fan is also not meant to be open to the elements. You need to make sure water/snow cannot enter the pipe and get into the motor section.

Asked on 2022-11-11 by Tom
#3
Q: I have a model fr 150 will this radon fan work?
A: The RP260 has very similar performance to the Fantech FR150. Here is the FR150 if you are looking for that fan: https://www.hvacquick.com/products/residential/AirFlow-Boosting/Inline-Air-Booster-Fans/Fantech-FR-Series-Inline-Centrifugal-Fans

Asked on 2021-05-04 by Don
#4
Q: Specs list a model 380. Not on price list. Availability?
A: That is a discontinued model. No more available.

Asked on 2021-03-10 by Rob
#5
Q: How to install this fan?
A: Here is the install manual: https://www.hvacquick.com/catalog_files/RadonAway_RP_Series_IOM.pdf

Asked on 2021-02-22 by md
#6
Q: RP 260 has the 6 ends. Should you use 6 pvc on this model, or do you get the same calculated cfm/airflow with 4 inch pvc?Thanks!
A: You will get significantly less airflow with 4 inch since the pressure drop will be much larger. When you look at the cfm vs static pressure chart you can see how the cfm decreases when you have higher pressure.

Asked on 2020-10-05 by B.S.
#7
Q: I currently have a RP145 installed but would like to downsize to the RP140. Is that a direct replacement?
A: Size wise, yes its a direct replacement. The 140 has a lot less pressure capability. See the specs tab for airflow and sizing info.

Asked on 2020-04-14 by Ryan
#8
Q: Hi is the 5 year warranty provided by you or the manufacturer? Does the warranty change if the installation is done by a homeowner vs. an installer?
A: The warranty is provided by the manufacturer. Yes, the warranty differs depending if the fan is installed by the homeowner or pro installer. See the full warranty text on the last page of the install guide: https://www.hvacquick.com/catalog_files/RadonAway_RP_Series_IOM.pdf

Asked on 2020-02-16 by FK
#9
Q: Are any of the models ignition protected? Exploring the possibility of using in a marine environment.
A: No, these are not. They are not certified to move or be surrounded by explosive air mixtures. None of the inline fans we sell are certified as such.

Asked on 2019-04-12 by Greg
#10
Q: Is the RP 380 fan the model that is 1/5 HP Max ?
A: They do not list the motor HP, but its rated at up to 152 watts which roughly corresponds to 1/5 HP.

Asked on 2018-07-30 by CS
#11
Q: What is meant by CFM at 0 SP? Is SP read from the manometer? What does WC refer to.
A: SP is static pressure -- typically pressure generated by the fan. WC is water column, a unit of pressure.

Asked on 2017-06-26 by Alfred
#12
Q: I have a RP-265 that was installed in March, 2001, what is the life expectance of this unit? Unit has run 24/7 w/ no problems.
A: 7-10 years is expected, I have seen Radon fans run for nearly 20...lets hope she keeps on running!

Asked on 2013-12-27 by jc
#13
Q: Are these plug in or hardwired? Thanks.
A: They come with no connection, but you could either wire a plug whip on it, or hardwire it using romex if you wish.

Asked on 2013-04-05 by Greg
#14
Q: I have a 3000 sq ft home with a slab. Which fan should I use?
A: That would depend on the type of system and the substrate...best to give us a call on that one as there are many variables that could come into play.

Asked on 2013-04-05 by Me
#15
Q: Can these be mounted horizontally??
A: Yes they can, however it is advisable to drill a weep hole with drain tube in the casing so any condensate can escape.

Asked on 2013-04-05 by Wayne
Related Products
Radon fan flexible PVC couplings and manometers. Used to simplify installation and meet RRNC 2.0 code requirements.

Battery-powered alarm monitors radon system operation. Provides audible and visual indicators when the active radon system has insufficient air pressure to operate properly.

They are ideal for most active subslab radon mitigation systems. 3" diameter connections for use with 3" or 4" PVC pipe.

They are ideal for most active subslab radon mitigation systems. 4" and 6" diameter connections for use with PVC pipe.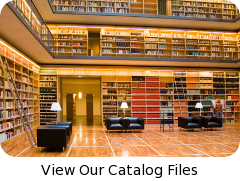 why buy from us?
We're engineers passionate about home ventilation and serious about customer service – so you can count on us for carefully-selected equipment and expert advice to ensure your project is a success from specification to installation.
Your call is answered by qualified people who will gladly discuss your project in detail, advise you professionally and never sell you inappropriate products.