AC Infinity CLOUDLINE Inline Fans With Speed Controller

AC Infinity CLOUDLINE Inline Fans With Speed Controller
The CLOUDLINE inline duct fan system is designed to quietly cool AV equipment rooms and closets, and to ventilate various air circulation and exhaust projects. Features an inline speed controller utilizing PWM-technology. Containing an inline mixed-flow design, the fan can maintain airflow even in high static pressure applications. The motor box containing the fan's impeller and blades can be detached from the mounted frame for easy cleaning and maintenance. Complete kit includes one duct fan unit, one inline speed controller, installation manual, mounting hardware, and a corded AC plug adapter to power the unit through a standard outlet.
The inline speed controller enables you to set the duct fan's speed to optimal noise and airflow levels for various environments. Unlike common AC-powered duct fans that suppresses voltage to control fan speeds, this duct fan features a DC-motor that is precisely controlled using PWM (Pulse Width Modulation). This technology enables the fan's motor to be able to run smoothly at extremely low RPM speeds without generating motor noises and heat as seen on variable voltage controllers. Eight speed options are available with power switch, and backup memory.
CLS4: Duct Size: 4" | Dimensions: 6.9 x 11.9 x 7.4 in. | Airflow: 205 CFM | 1.2 Amps
CLS6: Duct Size: 6" | Dimensions: 7.9 x 12.6 x 8.4 in. | Airflow: 351 CFM | 1.67 Amps
CLS8: Duct Size: 8" | Dimensions: 8.5 x 11.9 x 9.2 in. | Airflow: 740 CFM | 2.27 Amps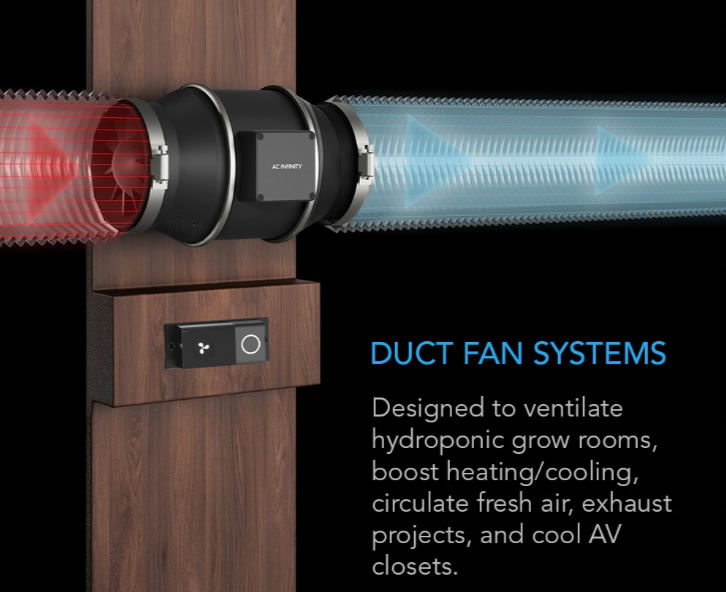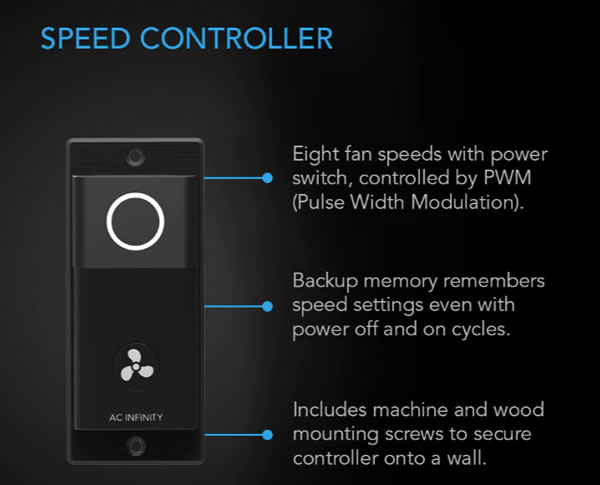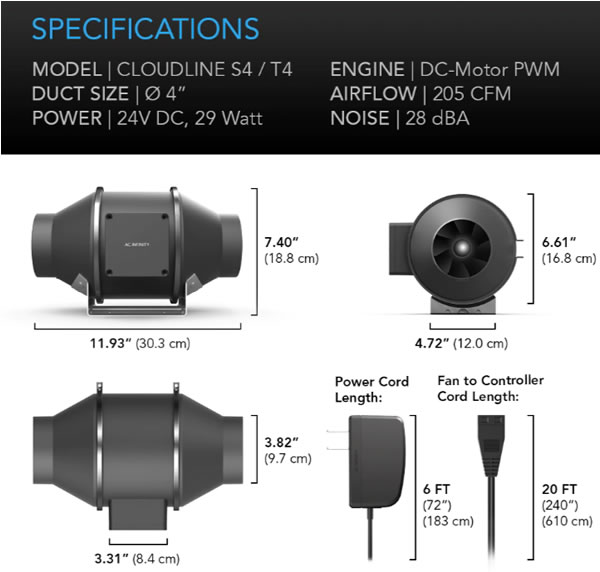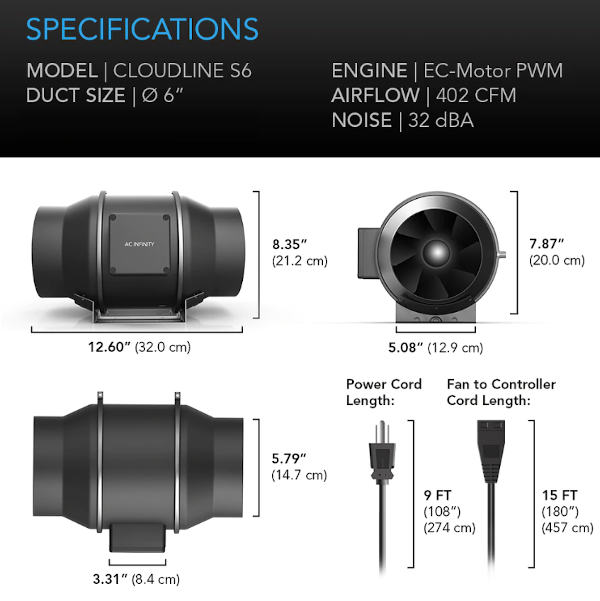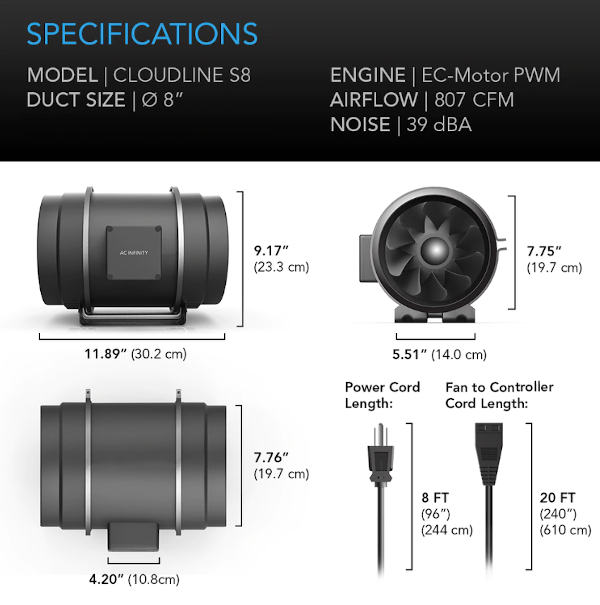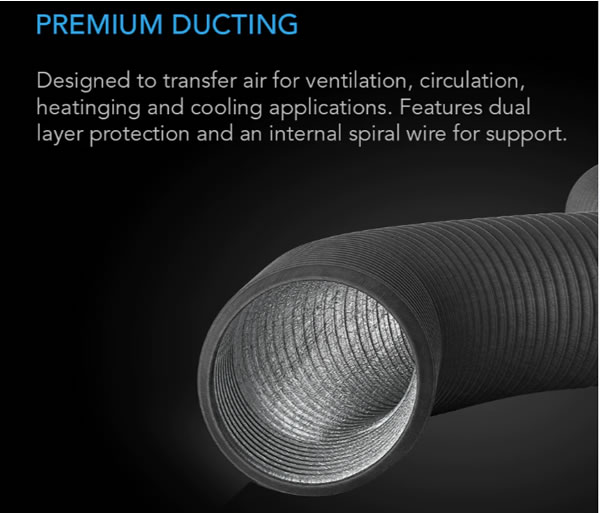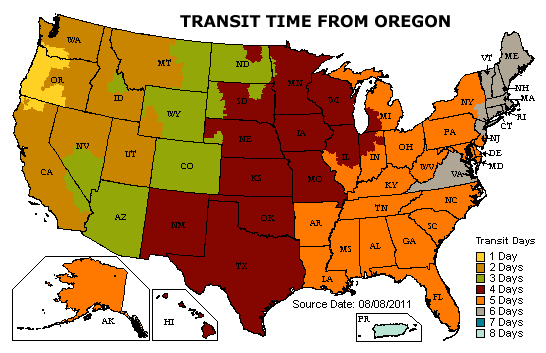 Do you have questions about the products on this page?

Click on the ? image on the left or this link to ask us your questions!
#1
Q: Would you recommend the Cloudline or the FG Series for Fireplace blower?
A: They have the same max airstream rating (140 F). You would have to shield them from any radiant heat. Both are very good products so I would choose on price and desired airflow. The Cloudline fans are much more controllable (come with speed controller).

Asked on 2019-05-21 by Nathan
#2
Q: What is the max air temperature this is rated for?
A: They specify 14 to 230 F as the ambient operating temp range. The max sustained airstream temp is 140 F, same as most inline fans.

Asked on 2019-05-21 by Nathan
Related Products
Inline fans designed to cool AV equipment and general exhaust. Included controller can adjust fan speeds to respond to varying temperatures and humidity.

Mounted onto wall or floor registers to boost airflow. Features a LCD display with smart thermostat control and customizable fan speeds.

A great fan for applications which require a high airflow to pressure ratio and occupy only the minimum space possible.

TD-SILENT series are extremely quiet, low profile mixed-flow fans. Manufactured in plastic material with a perforated inner skin and sound-absorbent insulation.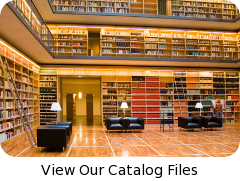 why buy from us?
We're engineers passionate about home ventilation and serious about customer service – so you can count on us for carefully-selected equipment and expert advice to ensure your project is a success from specification to installation.
Your call is answered by qualified people who will gladly discuss your project in detail, advise you professionally and never sell you inappropriate products.