Fantech FG Series Inline Centrifugal Fans
Fantech
Fantech FG Series Inline Centrifugal Fans
Airtight galvanized sheet metal housing (unpainted). Direct drive external rotor motorized impeller assembly. True airfoil backward curved wheel.
Speed-controllable

Can be installed in any position and outdoors

Maintenance-free and reliable
Mounting bracket and hardware included
Five-year factory warranty
UL Listed, CSA Certified, HVI Certified, Energy Star
*** $1 shipping on Fantech orders over $79. Not valid for Canada, HI & AK (reduced ship rates available). We price match! ***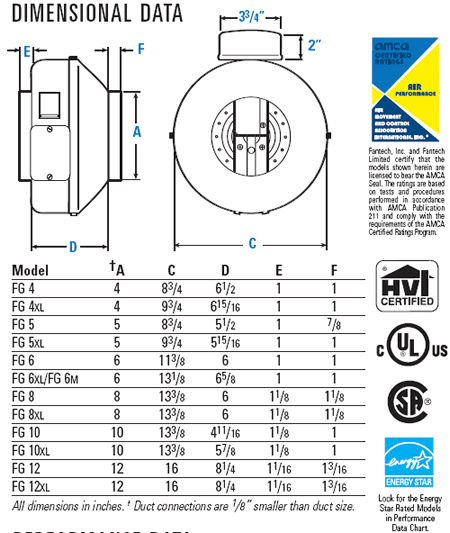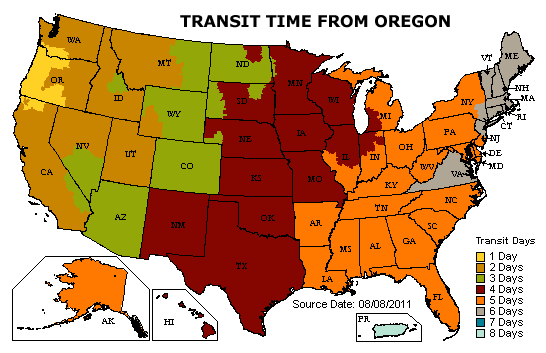 Do you have questions about the products on this page?

Click on the ? image on the left or this link to ask us your questions!
#1
Q: What is the maximum operating temperature for the air inside?
A: Rated for airstream temperatures up to 140 F per the catalog.

Asked on 2016-11-04 by David
#2
Q: Are Fantech FG fans suitable for insulation contact installation?
A: That would be fine with these fans as they get their cooling air from the air they are moving, as opposed to vents on the side.

Asked on 2014-07-26 by Derek
#3
Q: How is the the FG 6XL activated and deactivated once installed? Is it hardwired to the blower motor, to come on when that circuit is closed, or is there an upstream air pressure sensor? Thanks!
A: As it sits, there is no control..it must be added on or wired to the blower.

Asked on 2014-06-30 by Jerry
#4
Q: What is the fan wheel made out of aluminum or another type of metal?
A: It is actually non-metallic per the factory.

Asked on 2014-02-10 by rick
#5
Q: How will the FG 6 XL handle grease and other residue? I intend to mount this unit so that it draws from the top of the cooking range. The unit I currently use requires acasional cleaning.
A: These work very well for kitchen duty...I would recommend getting it away from the hood a bit for noise purposes however. If the screens in the hood are maintained, the fan should need little to no cleaning.

Asked on 2013-08-31 by Carlton
#6
Q: What is the noise level for FG 6 XL model
A: There is no listed sound level as how the fan is installed matters quite a lot. Just open on the bench I would put it in the 70 decibel range.

Asked on 2013-06-27 by Richard
#7
Q: Can a person install a variable speed switch to increase or decrease speed of fan
A: Yes, no problem at all. The WC15 or SCD5 have plenty of capacity to do that for you.

Asked on 2013-06-27 by Richard
#8
Q: is the fg 4xl explosion proof?
A: It is not, by definition no inline fan could be as the motor is in the airstream.

Asked on 2013-06-05 by Shawn
#9
Q: can the FG series be mounted in vertical and horizontal orientations?
A: They can be installed in any orientation, no problem.

Asked on 2013-04-07 by Ed
#10
Q: Can these run on DC voltage or is there a DC version?
A: They could run with an inverter, but they are not currently available in DC.

Asked on 2013-04-04 by SoCal
#11
Q: Is there a backdraft damper built into the FG fans?
A: There is no back draft damper on any of the fans, we prefer to install them at the penetration of the building envelope to stop the air from entering at all.

Asked on 2013-04-04 by EF
#12
Q: Should the fan be placed closer to the intake or closer to the exhaust cap? Or does it matter?
A: These fans are equally adept at pushing and pulling, so place the fan where it is most convenient to mount and access in the future if service is needed.

Asked on 2013-04-04 by Ed
Related Products
Airtight galvanized sheet metal housing (unpainted). Direct drive external rotor motorized impeller assembly. EC-motors for high level of efficiency.

Galvanized sheet metal housing. Direct drive external rotor motorized impeller assembly. Mixed flow (diagonal) wheel. Installs in any orientation.

Fantech fan speed controls, thermostats, humidistats and pressure switches.

Extremely efficient fans for a wide assortment of quiet air-moving applications. Compact size, low noise, very high efficiency and air tight casing. Standard and EC motors.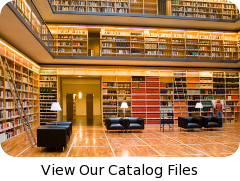 why buy from us?
We're engineers passionate about home ventilation and serious about customer service – so you can count on us for carefully-selected equipment and expert advice to ensure your project is a success from specification to installation.
Your call is answered by qualified people who will gladly discuss your project in detail, advise you professionally and never sell you inappropriate products.