Vortex Powerfans S Series Ultra Quiet Inline Fan
Vortex Powerfans by Atmosphere
Vortex Powerfans S Series Ultra Quiet Inline Fan
The S-Series are ultra quiet, low profile mixed-flow fans. They feature plastic construction with a double insulated wall to prevent condensation and reduce noise level. The integrated backdraft damper prevents air leakage when the fan is not in operation.
6 ft power cord included

Mixed flow impeller for quiet operation and high air flow

Integrated backdraft damper

Rubber gaskets in ensure air tight and vibration free connections

10 year warranty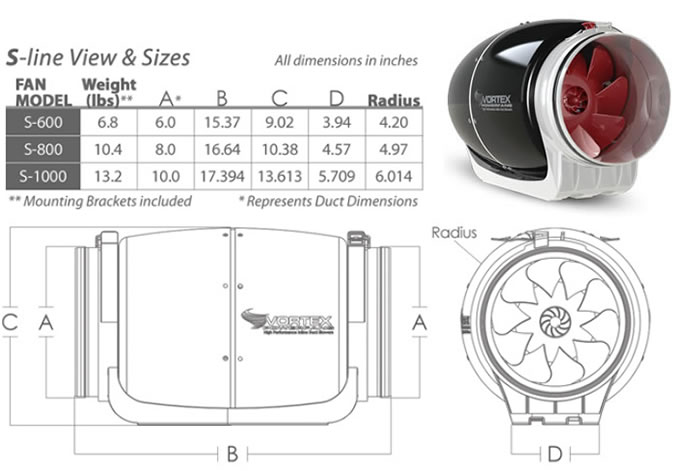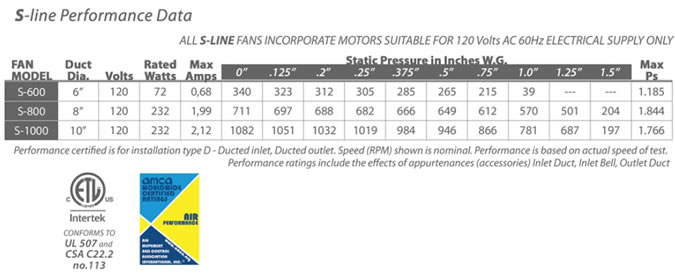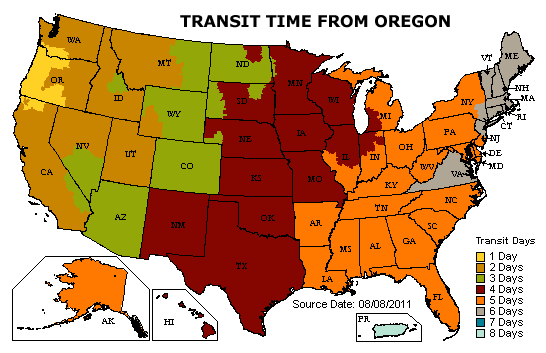 Do you have questions about the products on this page?

Click on the ? image on the left or this link to ask us your questions!
#1
Q: Which pressure switch is recommended for this fan?
A: For activating a booster fan use the Tjernlund PS1503: http://www.hvacquick.com/products/residential/AirFlow-Boosting/Pressure-Switches/Tjernlund-PS1503-Positive-Air-Flow-Pressure-Switch

Asked on 2018-03-13 by MB
#2
Q: Can these be used in an outdoor application?
A: These have to be protected from the elements. They are not meant to be mounted outside without weather protection.

Asked on 2018-03-12 by DC
#3
Q: What is the CFM for the 10 model?
A: Nominal CFM is 1082. Please have a look at the Specs/Pictures tab for a chart of CFM vs static pressure. Thanks.

Asked on 2018-01-08 by JLE
#4
Q: Can these run continuously?
A: Yes, these are rated for continuous duty.

Asked on 2018-01-05 by Mike
#5
Q: What additional parts would I need I get to control the speed ?
A: 5 amp or higher rated speed controller like the WC 15 or 6637-PW http://www.hvacquick.com/products/residential/Fans/Exhaust-Fan-Controls/Fantech-Speed-and-Fan-Controls

Asked on 2017-12-01 by Tim
#6
Q: Can a hose attach to the blower. If so what size.
A: These are meant to work with standard HVAC ductwork. Typically insulated flex duct. For the 6 inch fan you need 6 inch duct, etc.

Asked on 2017-02-05 by Michael
#7
Q: The fan comes with a 6 power cord. Can the unit be hard wired into a panel instead of using the cord?
A: Yes, you can certainly hardwire the fan.

Asked on 2016-01-05 by Brian
#8
Q: Can you recommend a speed controller for the 8 fan?
A: The Fantech WC 15 or SCD 5 will work just fine. Only difference is appearance.

Asked on 2015-10-05 by Eric
#9
Q: To install in existing duct work, does it only require cutting away the length of duct to slide the fan in and then hose clamping the two duct ends to the fan?
A: Correct. Dont forget power or a way to activate the fan.

Asked on 2015-07-25 by Brighton
#10
Q: What is the CFM of the 6 s series?
A: The S-600 is 347 CFM nominal.

Asked on 2015-07-23 by Manhattan
#11
Q: Is this fan explosion proof?
A: Nope. NOT explosion proof. Search for Canarm Explosion Proof Fans on the site.

Asked on 2015-03-17 by Dustin
#12
Q: Can this inline fan be used for residential Kitchen Range Hoods exhausts?
A: Not recommended, as the passages in the fan that help with sound will eventually plug with grease.

Asked on 2015-02-09 by NK
#13
Q: The s line has a 10 year warranty! Who backs that? Do you replace or is there another process? Will it require proof of purchase?
A: The manufacturer backs the warranty. We typically assist with the warranty process. We keep records of sales but proof of purchase is not a bad idea just in case.

Asked on 2014-10-16 by G
#14
Q: Can I use this fan to vent a home brewery.There will be no cooking just steam from the boil.
A: The fan has a temp limit of 140 degrees, so long as you are under that, should be no problem.

Asked on 2014-08-09 by Jesse
#15
Q: Can the S Series turn on automatically when the HVAC starts blowing?
A: With an add-on pressure switch, or if it is wired to the AHU, then yes.

Asked on 2014-08-08 by Chris
#16
Q: Do you have Db or Sone figures for these fans? How does the sound from this unit compare to that of the S&P TD-SILENT Series?
A: Very similar to the Soler Palau, which we measured at mid 50s in dBa.

Asked on 2014-04-30 by Mike
#17
Q: Can the RPM be controlled on the Vortex S Series Ultra Quiet Inline Fan?
A: These fans are speed controllable.

Asked on 2014-03-21 by Lorne
#18
Q: Can this fan be mounted in any direction?
A: Yes it can...

Asked on 2014-03-18 by Nick
#19
Q: What is the air temperature rating of the Vortex S Series? Is it suitable to use as a inline duct booster for heating and cooling?
A: They can handle up to 140F.

Asked on 2014-03-02 by Joe
Related Products
High performance inline blowers. Powder coated casings. Speed controllable and include a power cord.

Mixed flow inline blowers. Powder coated casings. Speed controllable and include a power cord. 12 to 16 inch.

TD-SILENT series are extremely quiet, low profile mixed-flow fans. Manufactured in plastic material with a perforated inner skin and sound-absorbent insulation.

PROfilter effectively removes 99.5% of odors. Rated for a continuous worry-free operation and available in different CFM ratings. Flanges included.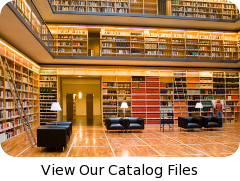 why buy from us?
We're engineers passionate about home ventilation and serious about customer service – so you can count on us for carefully-selected equipment and expert advice to ensure your project is a success from specification to installation.
Your call is answered by qualified people who will gladly discuss your project in detail, advise you professionally and never sell you inappropriate products.